I was so pleased to find out today that I won not one, but two challenges that I played along with last week!
I won Little Miss Muffet's with THIS card.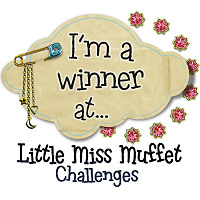 And then I found out I won Dutch Dare Card Challenges with THIS card.
I don't enter the challenges to try and win but not gonna lie, it's always fun when you do win!
I'm still working on the organization or should we say re-organization of my room but I did start a card..hopefully I'll have it done to share soon!!
Hope your Thursday was a fabulous one!