I've made scene cards with rubber stamps before but none really "that" detailed but I have never created a scene card with digital stamps before. I admit it, I was intimidated to color everything up and until recently I didn't have a clue on how to even make the scenes!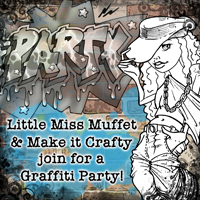 Make It Crafty and Little Miss Muffet had a FUN new release this week--a Graffiti Party! At first glance, I thought nah, not my style, not for me. But then I took another glance and well, they really intrigued me and got my gears working in my head! The rest as they say, is history!! I have created 4 scenes already and have more in my head but figured I better color some up before I get too crazy!!
So without further rambling on, here's my first ever all digi scene card! This was soooooo much fun!! and I think these style cards will be perfect for teens!
It took me many hours to color it but I just loved watching it come to life! I had fun on the wall too--added texture with colorless blender and a dishcloth!
Thanks for stopping by and I hope to be back soon with another creation for you!
If all else fails-add pink, sparkle and a butterfly!

stamps~ Little Miss Muffet-digi-Graffiti Dream, Make It Crafty-digi- Urban Scene,Urban Courtney, small brick crack
ink~
cardstock~ Copic Xpress, SU Pacific Point, SU Perfect Plum
designer paper~
other goodies~ copics, colorless blender, dishcloth
copics used~ bricks-from Jennifer Dove's copic color of the day-E33, E35, E57, E09, W4, W6, hair- E41, E47, E57, coat- YG93, YG95, YG97, YG99 shirt-YR21, YR23, YR24, skirt- E51, E53, E55 shoes- E84, E87, E89 fence- C7, C5 skin- E00, E01, E11, R30, R56, eyes-E33, E37, sidewalk- N1, N3, C3, dream- Y18, Y19, V05, RV17, B06, B01, B04, V04, RV13, RV14, V09, sky-BG10, cans- E71, E70, E74, wall-E31, W2, colorless blender w/dishcloth