I'm super duper excited to be able to share that I have joined the Polkadoodles Digi Choosday Challenge Team!! I have fallen in love with Polkadoodles and all the different stamps/papers/etc. that they offer. They truly do have something for everyone!
I will be sharing my inspiration for the Digi Choosday Challenge Blog every other week but be sure to check it out each week as there is a special discount offered each week!! How amazing is that!
The challenge is "Anything Goes" but the challenge teams have special challenges, this week the team was challenged to "Animals and a Flap".
The animal part was easy as Polkadoodles has so many adorable and fun animals images but the flap part challenged me a bit. I finally found THIS tutorial and decided to try my hand at a Side Flap Trifold Card.
For my card I used the super cute digital stamps~ Hello Spring and It's Spring. I was super excited to try digital papers for the first time and used Winnie Celebrations 2-Papers 1. I love how easy it was and how pretty they are! I can't wait to use more digital papers!!
I got lucky, my cat Alyssa tried to steal one of my images but I rescued it, whew!
I really like how this turned out and can't wait to make more of these kinds of cards.
Polkadoodles Hello Spring Digital Stamp, Polkadoodles It's Spring Digital Stamp, Polkadoodles Winnie Celebrations 2- Papers 1 Digital Paper, Copics, MFT A2 Stitched Rectangle STAX set 1, SU Lovely Lipstick Cardstock, Spectrum Noir Sparkle Pen, SU Rhinestone Basic Jewels,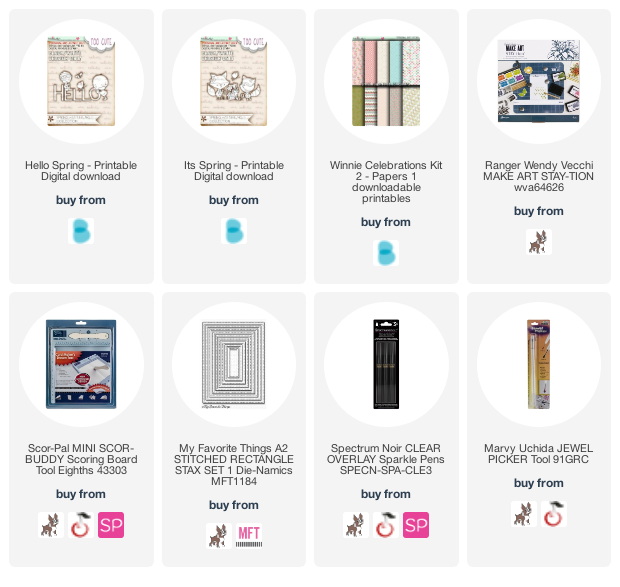 **Some links that I share are affiliate links. I link them up for your convenience and may receive a small commission, at no extra cost to you. I hope you will consider using the links if you decide to purchase the products I share.**